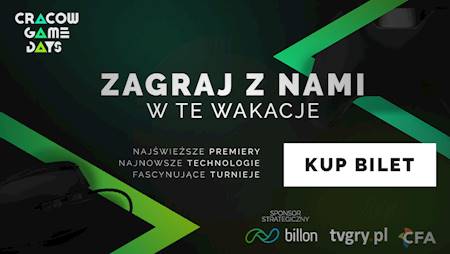 Cracow Game Days
Hey gamers are ready for the next event in the gaming world? Surely you're excited about the news that another Cracow Game Days is coming! On 21-22.07.2018 you will be able to meet people from the game industry creating videos on youtube, play a lot of games and just have a great time! Tournaments, contests, different zones await you, and if you feel hungry, you can find foodtrucks waiting for you!
From the WSEI Technology Park our junior team leaders Michał Piątkowski and Karol Marszalik will appear at the event.
These fairs are not only a few major attractions, but also a wide range of activities for people with different interests. Everyone will definitely find something for themselves.
On site you will also be able to engage in various tournaments including League of Legends, Hearthstone, CS: GO. There will also be a Youtube zone, where there will be a lot of influencers from the gaming industry with whom you will be able to get acquainted and can even debate!
Do you think that's it? You're wrong, there's more!
The EXPO will also be full of other attractions that will allow you to get involved.
There will be zones like: LEGO Zone, Parkour Zone, Retro Zone, Board Games Area and many more. You will be able to compete in the cosplay competition or if you are not interested in it, you can simply relax and rest in the chillout zone.
Location of the event: EXPO Krakow ul. Galicyjska 9, 31-586 Kraków
Saturday (21.07) from 10:00 to 20:00
Sunday (22.07) from 10:00 to 18:00
More info: http://gamedays.pl/
Buy a ticket: https://www.ebilet.pl/sport/e-sport-i-youtuberzy/game-days/
Available tournaments: http://gamedays.pl/tournaments
List of Youtubers: http://gamedays.pl/meetyt