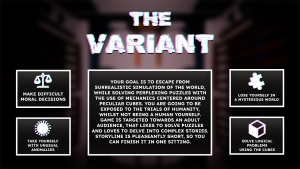 This is a game project being developed as part of the activities of the Game Dev Club scientific circle!
What is the game about?
THE PLAYER'S GOAL IS TO ESCAPE FROM A SURREALISTIC WORLD OF SIMULATION BY SOLVING PUZZLES USING MECHANICS RELATED TO MYSTERIOUS CUBES.
THE PLAYER WILL BE TESTED ON THEIR HUMANITY, NOT BEING HUMAN THEMSELVES.
THE GAME IS AIMED AT A MATURE AUDIENCE WHO ENJOYS PUZZLE SOLVING AND APPRECIATES COMPLEX STORIES.
THE PRODUCTION IS SHORT AND CAN BE COMPLETED IN ONE
EVENING.
Game Creators:
Daniel Pawlikowski
Hubert Czyszczoń
Jakub Piątkowski
Mateusz Niedźwiedź
Kacper Grela
Tomasz Ciuk
Daniel Czopek
Kacper Czekaj
Katarzyna Tenor
Jakub Rodzaj
Michał Chowaniec
Dominik Możdżeń
Organiser: Game Dev Club Scientific Circle Scientific
Supervisor: Jakub Pacura, MSc.